The Presence Of Simplicity, With The Great Ambiance, Of Our Wrinkle Décor Style Line, Yet Acheiving Complex Heights...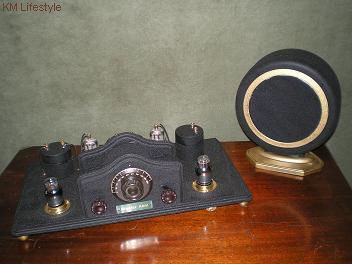 Atwater Kent® Used Per License
Our Highly Balanced Analog Radio,Vacuum Tube Amplifier Set, Offers Superb Sound Definition Through The 8" Steel Case Speaker Along With Clarity And Precision Radio Tuning. The Convience of The 3.5mm. Plug and Play Input Jack , (located lower right) Entitles You To Enjoy Countless Listening Device Options In HD, Our Easy Set Up,"Lions Den" Battery Eliminator Power Supply Plugs In Any Household A\C 120v Outlet, As It Truly Complements This Radio Set (not pictured). All Radio Packages Includes A 5 Year Manufacturers Warranty. Building Your Own Custom Sets Are Always Welcomed, As You Become Part Of The KM Lifestyle.